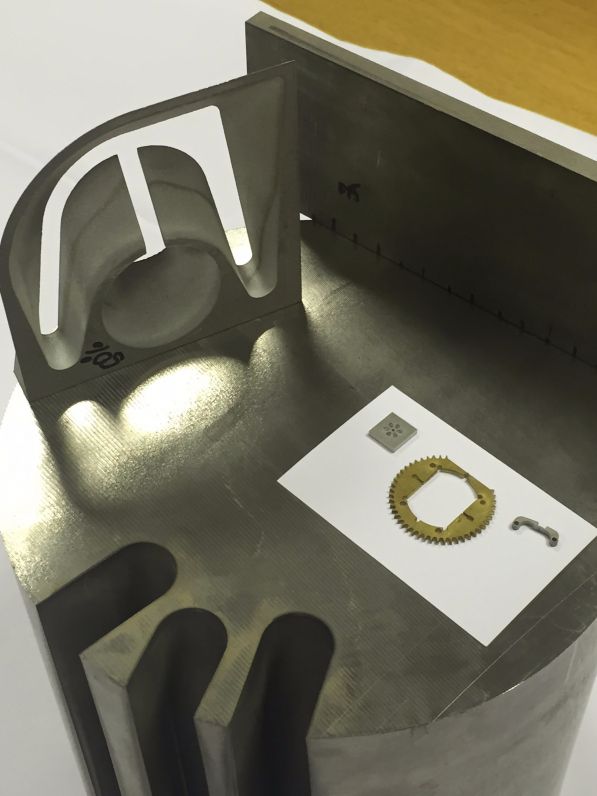 When you consider your next Water Jet machine, will you buy the same again, or will you consider wider possibilities?
Since the launch of the NCM "Microcut" machine that was unveiled at the Company's 20th Anniversary Open House in 2013, the applications for Fine Abrasive Waterjet (FAW) have been growing at a rapid rate.
Driven in no small way by entrepreneurial end users, the fitment of the Micro Cutting system onto "conventional" waterjet machines such as the NCP4020D has become commonplace, mostly from within contract cutting shops.
The Micro Cutting system utilises abrasive media with a 230 mesh grain size, delivered through a specially designed CNC controlled abrasive feeder. The nozzle sizes available go down to 0.2mm in diameter allowing radii as tight as 0.1mm to be achieved in corners. When deployed on the NCM Micro machine with dynamic accuracy approaching that of wire edm, extremely high tolerance applications can be made with typical tolerances better than 30µm achievable. Conventional Abrasive waterjet tolerances are more in the order of 0.2mm.
One customer engaged in the manufacture of finished parts for Aerospace engines that were traditionally profiled and then finish machined. Having the ability to produce finished parts in a single operation eliminated the need for additional downstream machining operations and their associated tooling and machine tool costs. Special grade stainless steel parts in 2mm thickness were produced to tolerances better than 40µm in this application. The same customer was receiving enquiries for fine detail in larger work pieces that did not require the ultimate accuracy, so approached WJS about fitting the MicroCut system onto a new NCP4020 machine. The new machine was delivered with the new BevelJet™ 60 5-axis cutting system, integrated rotary chuck and a Microcut system, giving a truly flexible system with multiple capabilities.
Another interesting customer application was the production of Airbus galley pieces for an airline that demanded very intricate shapes that would not have been possible by other existing processes. The same customer has also been producing rubber extrusion dies from 12mm tool steel – these were produced at 10 x the speed of their previous Wire EDM processes while still meeting the accuracy specification. This time, the customer machine was a model NCP4020D, with 2 conventional abrasive cutting heads and a single Microcut system, giving the flexibility to choose the appropriate system for each job based on a single machine tool.
In the UK market, 60% of the abrasive cutting machines supplied in the past 2 years by Water Jet Sweden have been fitted with the optional Microcut system.
When asked about the suitability of large volume cutting tables for Micro Cutting, Tony Rydd, technical director of Water Jet Sweden commented "When the application requires very tight tolerances, then without doubt the NCM MicroCut™ system is best for the job. Every consideration for the process and its typical applications has been considered in the design of this special machine. For the contractor who wants the highest capability and flexibility from a single machine then the addition of the Microcut system to their larger, more conventional machines meets that requirement well. We have supplied special cutting frames that mount onto the standard cutting table, allowing smaller pieces of material, typically 1m², to be held very rigidly and level to achieve better results than would be possible with a large sheet of thin material placed on a conventional cutting table. We believe that Water Jet Sweden's cutting systems have the best dynamic performance of any machine it its class. Each machine is error mapped using Renishaw Laser Inferometer and Renishaw Ballbars, so we know the dynamic properties, accuracy and repeatability of each machine as it leaves production. We are so confident in the integrity that we offer a full 5 year warranty on the mechanical components of the drive system. One of the most important factors when applied to cutting fine details is of course to have a backlash free drive system. This is provided by Class1 Rexroth ballscrews in the Y-Axis and depending upon the model, linear motors across the X. Our patented X-axis beam compensates for any thermal variation in the structure and the use of a linear encoder across the x-axis with almost zero coefficient of thermal expansion ensures positioning accuracy, irrespective of temperature. So, we are confident that we can provide a suitable platform for Micro Cutting, and evaluating any special applications on a case by case basis.